What is an opportunity on CONNECTS?
CONNECTS is about online business opportunities you can trust. The platform provides members with the chance to create, respond and accept all types of business opportunities.
This can involve the sale of a product or service that will enable the 'buyer' to start a business, and anything of value that will help entrepreneurs to re-energise and push their business forward.
We are devoted to help and care about individual users and decision-makers on the platform. By training and supporting Chamber moderators we manage a consistent stream of new business opportunities.
Every opportunity posted on CONNECTS is from an approved and validated Chamber member.
Types of opportunities
Users can create three types of opportunities: "Buy", "Sell" and "Connect with".
Looking for importers / distributors / industrial for our Sugar Replacement ellphi®
ellphi® is a bake stable sugar replacement of our own production that successfully replaces sugar in all kinds of bakery application, but not only as it can be used in a lot or different applications (beverages, ice cream, dressings, etc) - we are convinced it can be a best seller all over the world and are looking for the right person for dealing with it - existing in powder and syrup version - Please feel free to visit our website www.ellphi.com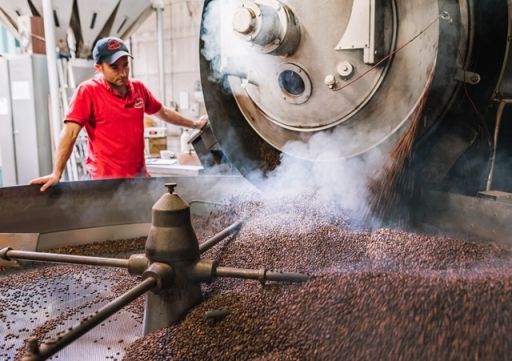 Fournisseur de café | Belgique & Hauts de France |
STORME Coffee Roasters, torréfacteurs de café de génération en génération depuis 1896, vous propose des solutions café de qualité pour les particuliers et les entreprises. Découvrez notre large gamme pour des pauses-café réussies : • Cafés bio et équitables, moulus ou en grains et autres boissons chaudes (thé, chocolat, soupes) • Machines et percolateurs • Accessoires & vaisselles café • Snacks • ... • Chez STORME Coffee Roasters nous travaillons continuellement au développement de notre responsabilité sociétale respectueuse de l'environnement en vous proposant des cafés bio, issus du commerce équitable tout en adoptant autant que possible, une démarche zéro déchet. Vous souhaitez échangez sur vos pauses-café ? Contactez-nous directement sur la plateforme CONNECTS ou par e-mail à : fstorme@cafes-storme.be !
Bulgarian producer of ornaments for textile is looking for manufacturing agreements
Bulgarian company is specialized in the production of ornament motifs for the textile industry from crystals and metal elements for heat-fixing. The company is interested to find partners to work with under manufacturing agreements. https://een.ec.europa.eu/partners/bulgarian-producer-ornaments-textile-looking-manufacturing-agreements
buscamos empresas que utilicen abonos orgánicos para su proceso de cosecha
vendemos abono organico hecho de pezuñas y cuernos que brinda una gran cantidad de nitrogeno y otros macronutrientes necesarios para los cultivos.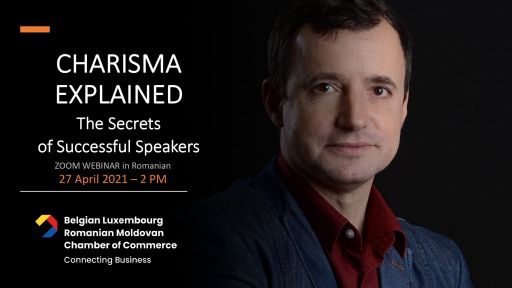 Webinar Tuesday 27 April 2021 at 2 pm Bucharest time : Charisma explained : the secrets of successful speakers
Whether you are an entrepreneur or an employee, the way you speak in public is a real business card not only for you, but also for the company you represent. That's why it's important to train ourselves to become good speakers. For this, we will offer you a series of tips & tricks meant to help you give presentations and impactful speeches. We will discover together the secrets of charismatic speakers and in this way you will strengthen your confidence in your own strengths, but also the image of a successful person among your clients, partners or colleagues. So we will learn together in just two hours: How can we manage emotions so that we can use them to our advantage; How we use all three types of communication to convey a compelling message; What do we need to be considered charismatic Claudius Dociu is a journalist known to the Prahova public, being at the same time the first journalist from Prahova elected in the Board of Directors of the Union of Professional Journalists in Romania. He is also known as a communication specialist, being one of the most appreciated trainers in the field, founder of the first Public Speaking Club in Ploiești. Founder of DADA MEDIA CONSULTING company, member of The Belgian Luxembourg Romanian Moldovan Chamber of Commerce. Register here : https://docs.google.com/forms/d/1P0OKwjegxfzi9kITUYp9vSzOOBwyJONNEK2Q0jkZs4Q After the registration you will receive the Zoom link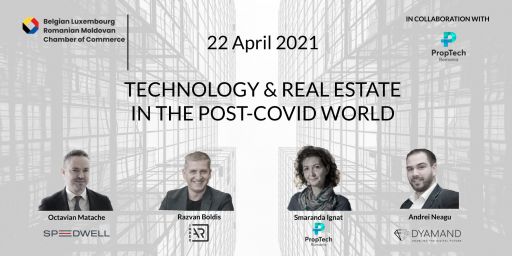 Webinar Thursday 22 April at 4 pm Bucharest time : Technology and Real Estate in the post-COVID world
Since we have heard so much about how everything has changed in the world, due to Covid, we cannot wonder "What stays the same?" ABOUT THIS EVENT BEROCC events are still going on in a digital option! Get the chance to listen to the inspiring theme: TECHNOLOGY AND REAL ESTATE IN THE POST-COVID WORLD with the great following speakers: Smaranda Ignat, PropTech Romania Octavian Matache, Speedwell Razvan Boldis, IndexAR Andrei Neagu, Dyamand PRACTICAL INFORMATION – Event in English – Digital event: Speakers and participants will have access to the event digitally. – Location: online event hosted by BEROCC Program 4:00-4:30 pm: Online Networking! 4:30-4:40 pm: Introduction of the event 4:40-4:50 pm: Smaranda Ignat, PropTech Romania 4:50-5:00 pm: Octavian Matache, Speedwell 5:00-5:10 pm: Razvan Boldis, IndexAR 5:10-5:20 pm: Andrei Neagu, Dyamand 5:20-5:50 pm: Q&A 5:50-6:00 pm: Conclusions 6:00-6:30 pm: Online Networking! FREE PARTICIPATION Register here : https://www.eventbrite.co.uk/e/technology-and-real-estate-in-the-post-covid-world-tickets-149396447797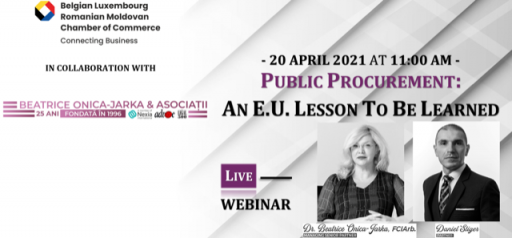 Webinar 20 April 2021 at 11 am Bucharest time : Public Procurement: an E.U. Lesson to be learned
Speakers : Dr. Beatrice Onica-Jarka , FCIArb. Daniel Stiger , Partner Register here : https://docs.google.com/forms/d/1zBTpTBxULMQ8WgAcaTWceyjhf8qHeWADEKXQ8jHJgn8 After registration you receive the Zoom link About Set up in 1996, our law firm gained its recognition as an important pillar for business development in Romania and abroad. We are a team of dedicated lawyers with broad and specialized experience, approaching the clients' concerns with flexibility and providing creative integrated business solutions. Our activity is dedicated to the success in business for our clients: local and foreign corporate clients, multinational companies, local and foreign investors, public bodies, associations, foundations, etc. Our services range from providing legal assistance, consultancy and litigations to providing integrated business solutions based on legal approach. Member of: Advoc Europe Advoc Europe was founded in 1990 by several independent law firms seeking to better answer their client's requirements for legal assistance outside of their own countries. The founder members identified and accepted in the network those independent law firms providing services according to their clients needs and complying with the commitment and quality code agreed by all members. Nexia International Founded in 1971, Nexia International is a specialized network of independent auditors, business advisers and counsellors, ranking 10th worldwide in this specific area. With 520 offices in over 100 countries, its global presence in the most important financial and economic centres in the world allows Nexia to render the best quality services to the clients, both at national and international level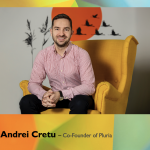 Webinar 21 April 2021 at 11 am Bucharest time : Remote work options- Leverage these challenging times to your organizations advantages.
Come and meet Andrei Cretu who will share best practices about Remote Work and New Working Registration : https://docs.google.com/forms/d/1hcx4VbkeT6DU_Kb9QJREaxAHWLGlDvMv_a1GCoYnfvA/ After registration you receive the Zoom link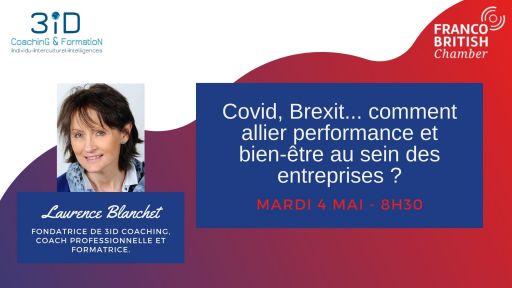 WEB EVENT 4 MAI 2021- Covid19, Brexit... comment allier performance et bien-être au sein des entreprises
La chambre de commerce Franco-Britannique, en assocation avec 3iD Coaching vous propose un web-event le 4 mai 2021, à 8.30-9.30am (heure francaise): Télétravail, problèmes logistiques, burnout, situation sanitaire et économique imprévisible... Covid-19 ou Brexit, ces bouleversements ont été sources d'un changement imprévu et parfois violent des organisations, que cela soit dans leur activité ou chez leurs salariés. Face à ces mutations et à leurs lourdes conséquences humaines et organisationnelles, 3iD Coaching vous propose d'identifier les facteurs de stress et de tension au sein de l'entreprise, de comprendre leurs impacts et d'aborder la manière pour y remédier. 3iD Coaching accompagne les organisations de toutes natures, (dirigeants, managers, équipes, tout collaborateur), à travers un processus de coaching et/ou de formations autour de problématiques liées entre-autres, au Management, au Changement, à la transformation, et au Développement personnel.
French company offers truffles for distribution or commercial agency agreement
A company from France is looking for new partners in order to distribute their fine truffles under distribution or commercial agency agreements in European Union. https://een.ec.europa.eu/partners/french-company-offers-truffles-distribution-or-commercial-agency-agreement
What do we offer you?
When two companies interact with each other regarding a business opportunity of mutual interest posted on CONNECTS, they create a connection.
This can then blossom into a partnership or a business transaction if the two parties should so wish.
We recently launched the Communities feature!